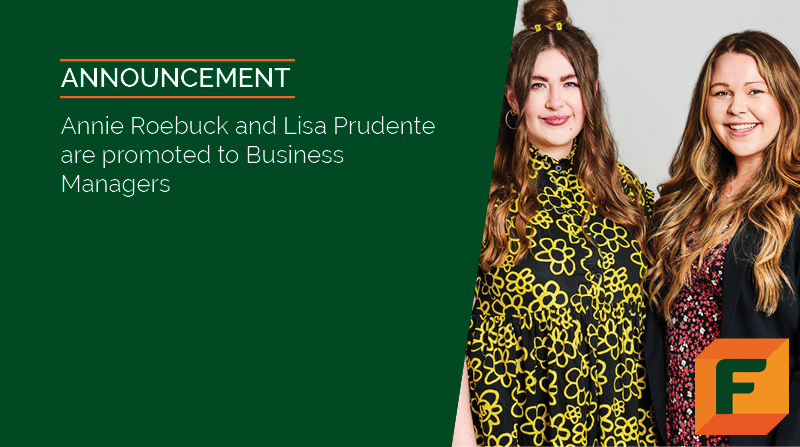 Annie Roebuck and Lisa Prudente Promoted to Business Managers
Monday 23 May 2022
Flude Property Consultants are delighted to announce that Annie Roebuck and Lisa Prudente have been promoted to Business Managers, with each of them focusing on different parts of the business to play to their individual strengths and to the benefit of the business.
Predominantly based in Chichester, Lisa has endeavoured to understand each area of the firm since joining in 2016, with strategy and compliance always at the forefront of decisions she makes. As Business & Strategy Manager, her predominant focus will be on business contracts, renewals and compliance for the firm, whilst continuing to manage the Chichester and Portsmouth offices. Additionally, Lisa has a particular interest in HR and is keen to develop and improve upon existing procedures.
Annie started at Flude's Brighton office in 2018 and has taken on all things marketing since her first day. Her new role as Business & Marketing Manager will see her lead the company in all aspects of marketing, social media and PR. With a focus on internal and external communications, Annie will continue to play a key part in Flude's brand development and management moving forward and will use her knowledge of the business and her communication skills to effectively launch new procedure and lead software implementation.
As senior managers, their new roles will see them taking on the administrative running of the business, allowing Flude's Directors a greater focus on the provision of property / real estate services (agency, lease advisory and valuation, rating, property management and consultancy services) to clients of the firm and departmental strategy.
Lisa Prudente commented, "I have worked at Flude for almost six years. In that time have worked in almost every department, gaining valuable experience in knowing and understanding how the business works. I am excited for this new role, and look forward to ensuring cohesiveness across the offices and looking at how we can streamline processes to improve profitability".
Annie Roebuck commented, "I am delighted to be taking on the role as Business & Marketing Manager at Flude and to have the opportunity to work closely with Flude Directors' and Lisa to ensure Flude remains to be one of most well-known and highly regarded property consultancies on the South Coast".
Flude Director, Edward Flude, commented "We are delighted with Annie's and Lisa's appointments in these newly created roles that we expect develop as the business continues to grow and we wish them both every success in this next step of their careers at Flude".
Back to News