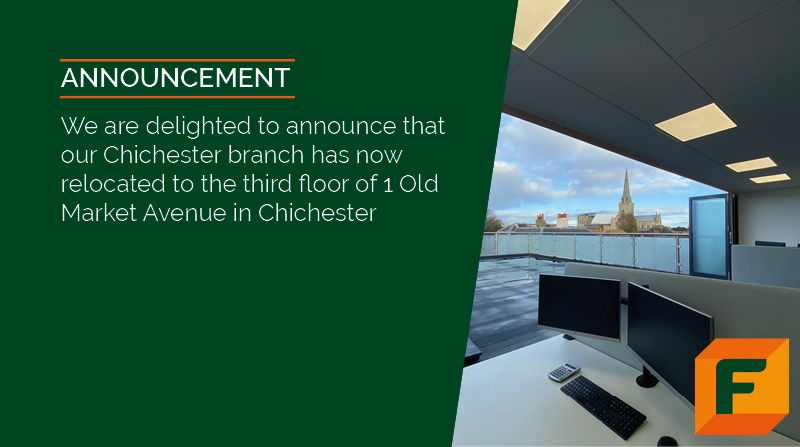 Flude Property Consultants' Relocate to New Office in Chichester
Tuesday 22 November 2022
After 11 strong years in our current location, Flude Property Consultants' have announced that we have relocated our Chichester branch to another site within the city.
Our new modern accommodation is located at 1 Old Market Avenue in Chichester, just a short walk away from our current location. Our new office has recently undergone a full refurbishment throughout and provides a modern open plan environment, meeting room, break out room, new kitchen, WC's, separate shower room and large terrace with fantastic views to the Cathedral.
Flude Property Consultants will be open and trading from their new office on Tuesday the 22nd November.
Head of our Chichester office, Mark Minchell, commented, "We are delighted with the move that mirrors our sister offices in Brighton and Portsmouth. There is a tinge of sadness moving from where this office started back in 2011 and we are grateful to our previous landlord, Oliver James for his support over the years".
It is thanks to our clients that we have outgrown our current situation and the larger modern space is in line with our ambition to further service the West Sussex commercial property market. Our new office will allow for expansion of our Chichester team as the company continues to grow.
Flude Property Consultants have put measures in place to ensure there will be no disruption to our services during this time.
Any enquiries about the office relocation can be directed towards Business & Strategy Manager, Lisa Prudente, who has project managed the office relocation this year.
Lisa Prudente commented, "We've been looking at this move for the Chichester team for some time now. The business has seen a significant success over the last 11 years and it was an appropriate time to relocate and have an office space that reflects the dynamic work we do and team that we have".
Flude Property Consultants hope to host a drinks reception for clients and contacts in the New Year.
Back to News