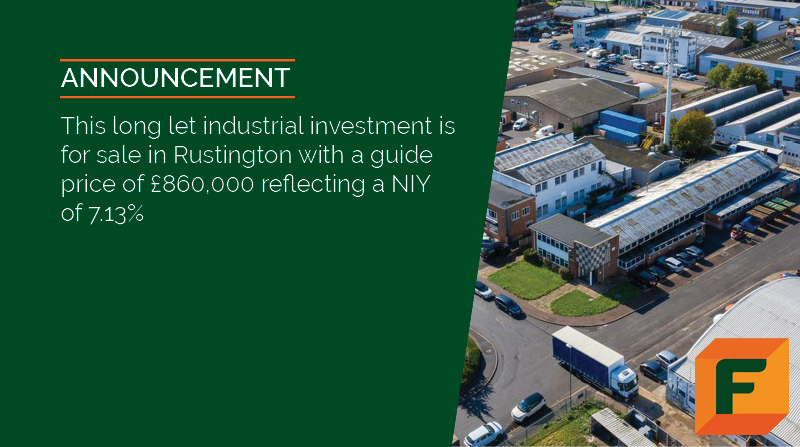 Long Let Industrial Investment in Rustington For Sale
Friday 11 June 2021
Flude Property Consultants have just commenced marketing of an industrial investment in Rustington.
The property comprises a purpose built detached industrial / warehouse unit with landscaped gardens to the front (east) elevation and yard / parking area to the north elevation. 
Investment highlights:
Detached purpose built industrial building
Prominent corner position on an established estate in Rustington
Rustington is a large affluent village approx 6 miles west of Worthing
Very tight industrial market locally and regionally with virtually no availability and very little land supply on which to develop new stock
Passing rent of £65,000 pa is towards the bottom end of the range of rents for the local industrial market (generally ranging from £6 - £10/sq ft and up to £14/sq ft for prominent trade counter units (excluding Brighton where rents are approx 40% higher))
10 years remaining on the lease
The tenant, Precision Products (Brighton) Limited, is a long established (46 years) former family run business
Guide price of £860,000 reflecting a NIY of 7.13%
Precision Products (Brighton) Limited were a family run business established in 1974. In July 2020 West Oak Capital Limited acquired a controlling interest in the company. The Picross Precision Engineering Company Limited are now surety on the lease, who in 31 March 2020 reported total assets less current liabilities of £838,000.
Visit the property listing here.
For further information, please contact:
Andrew Halfacree
E: a.halfacree@flude.com
T: 01273 740385
Mark Minchell
E: m.minchell@flude.com
T: 01243 929136
Back to News