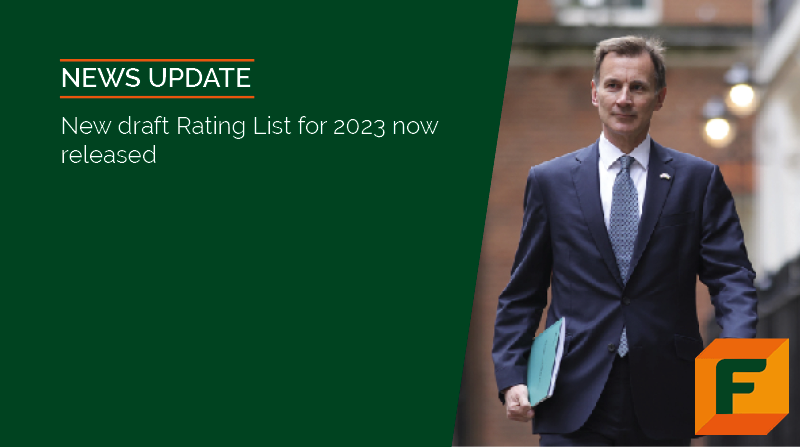 New Draft Rating List for 2023 Now Released
Thursday 24 November 2022
The Valuation Office Agency (VOA) review business rates periodically to realign the rating list with rental levels. The current rating list ends on the 31st March 2023. The Chancellor delivered his Autumn Statement last week, with some good news for ratepayers who had been facing uncertainty over business rates.
This draft rating list can be appealed against before any business rates payments are due in April 2023. The new rating list will come into effect on the 1st April 2023 and is based on rental values as of the 1st April 2021. Interestingly, this was a period when the effects of Covid-19 were negatively impacting rental markets.
The government has issued a factsheet detailing the changes, here is a summary of the key points:
Retail Hospitality and Leisure relief increased from 50%, to 75% for 2023/24
This will be capped at £110,000 per business, meaning that occupiers of more than a small number of properties will see a limited benefit.
UBR multipliers frozen for the third time (0.499 small & 0.512 big)
This is the third year that the UBR has been frozen.
There will be no downward Transitional Relief
If the RV falls by 50%, the ratepayer will benefit from that straightaway.
A cap on bill increases with Upward Transitional Relief:
Upwards Caps - 2023/24 - 2024/25 - 2025/26
Small (RV up to £20k or £28k in London) - 5% - 10% - 25%
Medium (RV between £20k to £100k) - 15% - 25% - 40%
Large (RV greater than £100k) - 30% - 40% - 55%
Small Business Rate relief to continue
Whilst there is not detail on the thresholds, the relief itself is to remain. If, as a result of the revaluation, a business loses eligibility for the relief, they will only be asked to pay an extra £50 a month i.e. £600 extra per annum.
Director and Business Rates Expert, Daniel Green, commented, "The package announced by the Chancellor will be welcomed by many businesses, particularly those in the retail, hospitality, and leisure sectors. With the revaluation there will inevitably have winners and losers, we are pleased to see confirmation that downward transitional relief is to be scrapped ensuring those businesses seeing a fall in their rateable values will get the benefit of that immediately".
As these important dates loom on the horizon, now is the ideal time for businesses to engage with a rating surveyor who can review the correctness of a rateable value(s). The Commercial Property Network (CPN) is member network of Chartered Surveyors, that facilitates the sharing of local and national information that underpins trusted, reliable advice. Flude Property Consultants head up the CPN rating service line.
Back to News