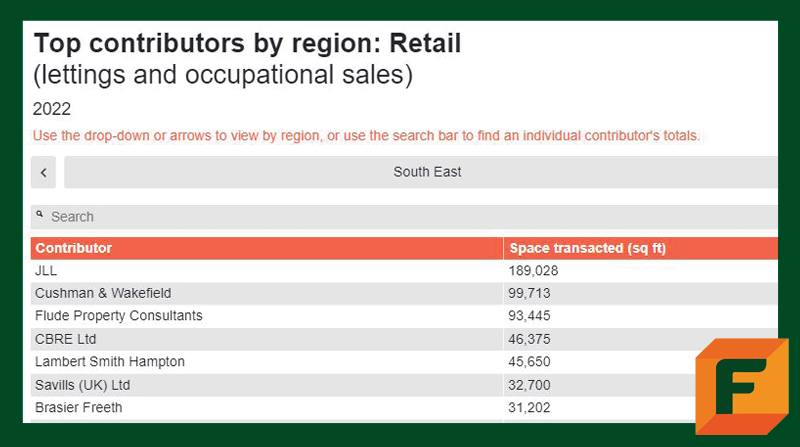 Third Position for Flude Property Consultants' in South East Retail Category at the End of Q3
Friday 4 November 2022
Flude Property Consultants are currently strongly in third position on EG's 'On-Demand Rankings' platform in the South East of England's retail sector category.
Having transacted 93,445 sq ft of lettings and occupational sales thus far, Flude are in third position and shortly behind Cushman & Wakefield, who currently sit in 2nd position with 99,713 sq ft.
EG's On-Demand Rankings offer an up-to-date view of deals completed across the region to benchmark the performance of local firms and as a result of transacting over 100,000 sq ft of retail space in 2021, Flude placed third in the retail sector. Read about our 2021 success here.
Director, Sebastian Martin, commented, "It is fantastic to see our Retail team ranking third for lettings and occupational sales in the South East at the end of Q3. Keep up the good work Alice, Will and Mary!"
As we head in to Q4, Flude's retail hardworking agency team look to be on track to finish in third place. We look forward to hearing of the winners early next year.
Back to News